Announcements
Announcements
First semester 2018/2019

Day

Date

Occasion/Academic Procedures

Note

Wed-Sun

22-26/8/2018

Eid Al Adha (estimated)

*Holiday

Sun

9/9/2018

Procedures for admission & registration of new students

Sun

9/9/2018

Start of the academic year, registration of old students, return of faculty members

Sun-Thu

9-13/9/2018

Withdrawal and addition of courses

Tues

11/9/2018

Hijri New Year - 1 Muharram 1439 AH (estimated)

*Holiday

Sun

16/9/2018

Classes begin

Thu

25/10/2018

Deadline for incomplete exams

Thu

8/11/2018

Deadline for submission of first exam results

Fri

20/11/2018

The Prophet's Birthday (pbuh) 12 Rabia Al Awwal 1439(estimated)

*Holiday

Thu

13/12/2018

Deadline for submission of second exam results

Sun

16/12/2018

Registration for the second semester of 2018/2019 begins

Thu

20/12/2018

Deadline for submission of particular courses & graduate exam results

Thu

20/12/2018

End of withdrawal period for undergraduate students

Thu

20/12/2018

Deadline for defense of graduation thesis

Tues

25/12/2018

Christmas

Holiday

Thu

27/12/2018

End of withdrawal period for graduate students

Sun -Tues

30/12/2018-8/1/2019

Final Exams

Tues

1/1/2019

New Year

Holiday

Sun

13/1/2019

Deadline for submission of final exam results by faculty members

Mon

14/1/2019

Faculty members' recess begins

Graduation day

Second semester 2018/2019

Day

Date

Occasion/Academic Procedures

Note

Sun

20/1/2019

Deadline for completing the registration process for the semester

Sun

27/1/2019

Faculty members return from recess

Sun - Thu

27-31/1/2019

Withdrawal and addition of courses

Sun

3/2/2019

Classes begin

Thu

14/3/2019

Deadline for incomplete exams

Thu

28/3/2019

Deadline for submission of first exam results

Wed

3/4/2019

Israa wal Mi'raj – 27 Rajab 1440 (AH) - estimated

Sun

14/4/2019

Registration for summer semester of 2018/2019begins

Wed

1/5/2019

Labor Day

Holiday

Thu

2/5/2019

Deadline for submission of second exam results

Thu

9/5/2019

Deadline for submission of particular courses & graduate exam results

Thu

9/5/2019

End of withdrawal period for undergraduate students

Thu

9/5/2019

Deadline for defense of graduation thesis

Thu

16/5/2019

End of withdrawal period for graduate students

Sun - Mon

19-27/5/2019

Final Exams

Sat

25/5/2019

Independence Day

Holiday

Thu

30/5/2019

Deadline for submission of final exam results by faculty members

Sun

2/6/2019

Faculty members' recess begins

Sun - Thu

3-6/6/2019

Eid ul Fitr (estimated)

*Holiday

Graduation day

Summer session 2018/2019

Day

Date

Occasion/Academic Procedures

Note

Sun

9/6/2019

Deadline for completing registration process for the semester

Sun

9/6/2019

Faculty members return from recess

Sun - Tues

9-11/6/2019

Withdrawal and addition of courses

Sun

16/6/2019

Classes begin

Thu

11/7/2019

Deadline for incomplete exams

Thu

11/7/2019

Deadline for submission of first exam results

Thu

25/7/2019

End of withdrawal period for undergraduate students

Thu

25/7/2019

Deadline for submission of second exam results

Thu

25/7/2019

Deadline for submission of particular courses & graduate exam results

Thu

1/8/2019

Deadline for defense of graduation thesis

Thu

1/8/2019

End of withdrawal period for graduate students

Sun-Thu

4-8/8/2019

Final exams

Sun-Wed

10-14/8/2019

Eid Al Adha (estimated)

*Holiday

Mon

19/8/2019

Deadline for submission of final exam results by faculty members

Tues

20/8/2019

Faculty members' recess begins

Graduation day
* Holiday starts according to Hijri Calendar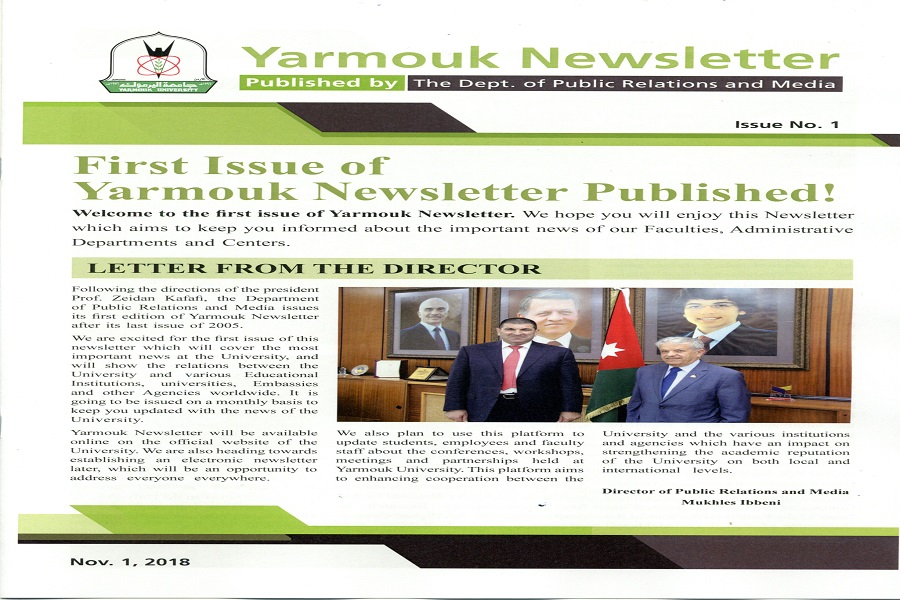 Following the directions of Prof. Zeidan Kafafi, the Department of Public Relations and Media issued its first edition of Yarmouk Newsletter after its last issue of 2005.
Yarmouk Newsletter covers the most important news at the University tackling the relations between the University and the various educational institutions, universities, embassies and other agencies worldwide. It is going to be on a monthly basis to keep you up-to-date with the news of the University.
The newsletter also aims at enhancing cooperation between the university and the various institutions and agencies which have an impact on strengthening the academic reputation of the university on both local and international levels.
In cooperation with the Computer Center, the Department of Public Relations is working on launching an electronic copy of the newsletter, which is an opportunity to address everyone anywhere.
Dear Students,
Please be aware that you can pay your university fees via (efawateercom) without having to review the Financial Department through the following service providers:

* Banks (according to the list set forth): by the cashier (without the need for an account in that bank) and Online Bank (Web application), Smartphones and ATM all of which require an account in the bank.
* Any branch of the Jordanian Post in the kingdom.
* Mobile E-portfolios
* Exchange offices (as listed below).
* Visa cards/MasterCard though www.efawateercom.jo